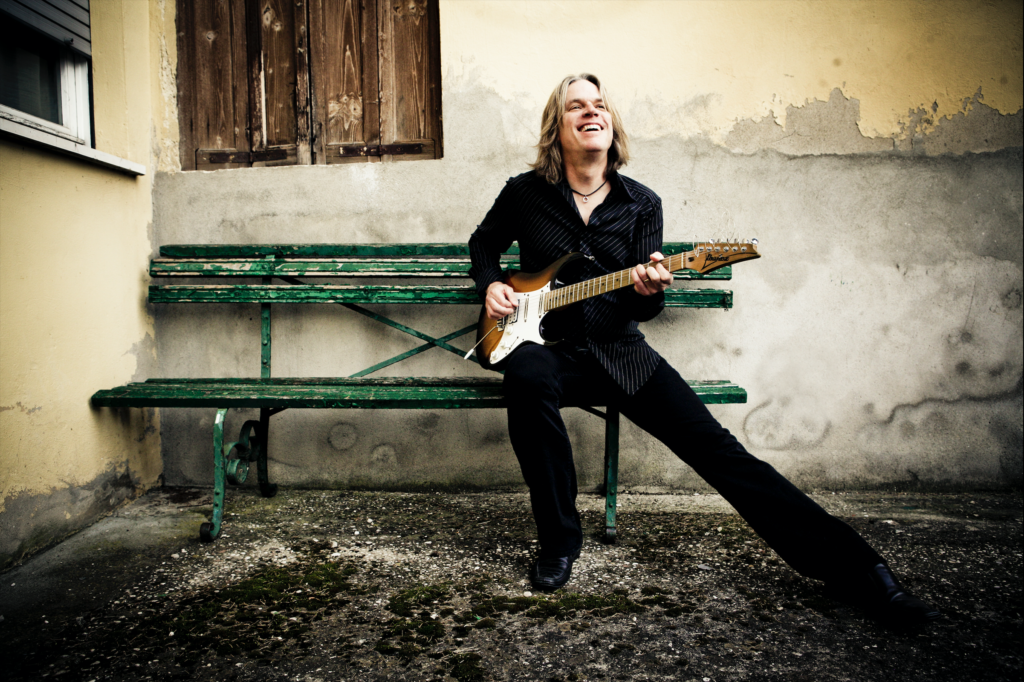 Line Up:
Andy Timmons – Guitar
Mike Daane – Bass
Rob Avsharian – Drums
BIO
The Andy Timmons Band was formed in Denton, Texas in 1988. The original line-up consited of Mike Daane on bass, Mitch Marine on drums and of course Andy on guitar. The early ATB gigs were a mixture of originals and covers of various guitarists like Eric Johnson, Joe Satriani, Steve Vai, Steve Morse and some Bubble Puppy thrown in for good measure.
The band released several CDs (ear X-tacy, ear X-tacy II, Spoken & The Unspoken, And-thology) in Texas, Europe and Japan.
The group also won several awards and honors over these years (Musician of the Year, Best Guitarist, Best Bassist, Best Drummer….) In 2001 Andy signed with Steve Vai's Favored Nations label and released "That Was Then, This Is Now" a compilation of songs from the first 2 ear X-tacy albums and five new tracks. This was the first combined U.S. and International release for the band and it garnered a lot of attention in guitar communities throughout the world. The new tracks also marked a new direction musically for the band which they would follow for the recording of their next CD "Resolution". The most recent ATB release 'Plays Sgt. Pepper' garnered rave reviews in music publications worldwide and was hailed by guitarists and Beatle fans alike as a masterpiece.
The Andy Timmons band features
Andy Timmons on the guitar. As guitarist for pop-metal band Danger Danger, he toured the world opening for Kiss and Alice Cooper, sold over a million records worldwide, and had two #1 videos on MTV, plus amassing a discography that includes 7 solo releases that range from blazing guitar instrumentals, to blues, and even a Beatles/Elvis Costello-inspired collection of pop tunes.
As a session player, he's been highly featured on CDs by drumming legend Simon Phillips, a live CD with Olivia Newton-John, two internationally acclaimed CDs by Kip Winger, recording sessions for Paula Abdul, Paul Stanley… He has also played alongside many of his heroes such as Steve Vai and Joe Satriani, Eric Johnson, Steve Morse, Mike Stern, Ace Frehley, Ted Nugent, and Pierre Bensusan, as well as some of his fave '60's singing stars such as the Beach Boys, Lesley Gore, and Gordon Waller (of Peter and Gordon fame!)
Mike Daane on bass who has recorded and toured with an extremely wide range of talented artists, most notably, guitar virtuoso Andy Timmons, industrial/art-rock band Ugly Mus-tard, roots/pop band Sparrows, punk/funk band Last Rites, and contemporary artist Sara Hickman (While with Sara he performed on the Tonight Show with Johnny Carson, Austin City Limits, and opened on tour with Eric Johnson).
Newest ATB band member is drummer Rob Avasharian. Rob began touring with the band in 2007 and will be featured on 5 tracks on the upcoming ATB release 'Theme From A Perfect World'. A graduate of The University of North Texas including a stint at Berklee College of Music, Rob earned a bachelors degree in jazz studies in 1994. Rob co-founded the experimental new-wave/punk band Bobgoblin who later signed with MCA Records in 1997 releasing "The Twelve Point Master Plan".